Colorado Springs Local Area Attractions
There are so many activities in the Colorado Springs and Surrounding areas that you do not have to drive very far!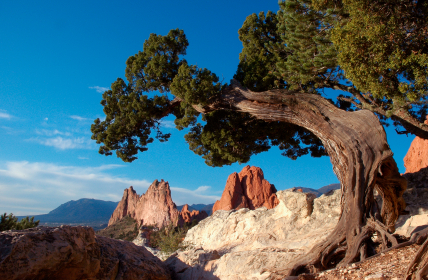 Garden of the Gods– This national park has walking and biking trails throughout and if you are a rock climber, you will definitely want to make a visit! It can get crowded by tourists since it is one of Colorado Spring's greatest attractions. The rock formations are truly amazing and if you look closely, you will spot one rock feature, Kissing Camels that looks like two camels facing each other with their lips touching. There is a visitor's center right outside of the park that offers information about how the rocks were formed over time, very interesting!
Cave of the Winds- Off of Hwy 24, this attraction can be a great family outing. Cave tours vary from walking through with a guide (approx. 45 minutes) to view the beautiful crystallized icicle shaped stalactites and stalagmite columns and formations coming up from the cave floor to extended spelunking or caving tours.
Hiking/Biking- A 30-45 minute drive can lead you to some beautiful hiking areas around Colorado Springs. Please take a look at the list below for various hiking/biking trails in the area….
Cheyenne Canyon
Waldo Canyon
Green Mountain Falls
Pikes Peak
Manitou Incline
Garden of the Gods
The Crags
Seven Bridges
Bear Creek Park – Section 16
Homestead
Palmer Park
Waldo Canyon
For more information about local hiking or biking trails you may contact Colorado Springs Parks and Recreation at (719) 385-5940.

Pikes Peak- Colorado Springs is situated at the base of Pikes Peak which stands at 14,115 feet. Depending on your health and athletic skill level, there are a variety of ways to enjoy Pikes Peak. If you are not a hiker, you may access the top of Pikes Peak by the Cog Railway, driving, or hiking to the very top of the fourteener (make sure you start early), or by hiking half-way to base camp. If you would like a good workout, try hiking the incline (stairs alongside the cog railway) some people can do it in 20 minutes! The weather can change quickly on Pikes Peak so make sure you are prepared and if you have problems with altitude sickness, going to the top of Pikes Peak is probably not a good idea.
Manitou Springs- Manitou Springs is off of Hwy 24 and at the base of Pikes Peak. You can spend a whole day here walking through the town and looking inside all of the unique shops and learning about the history of Manitou Springs. If you decided to stay the night, there are many unique places to stay including bed and breakfasts, motels, and campgrounds. There are some great restaurants to try out; the Mona Lisa Fondue Restaurant being my favorite. Don't forget to stop by the Penny Arcade; it is great fun for adults and children alike! Multiple buildings make up the Penny Arcade and there are hundreds of games to choose from as well.
Seven Falls- Minutes from downtown Colorado Springs and located at 2850 S. Cheyenne Canyon Road, you will find the cascading Seven Falls. Climb the long stairway alongside the falls and take in the views of Colorado Springs from above. If you do not want to climb the 224-step stairway, there is also a mountain elevator that can offer awesome views of the falls.
Cheyenne Mountain Zoo- Did you know that this is the only mountain zoo in the United States? Many of the walkways are sloped and hilly so you will get a workout too! Unlike the Denver zoo, you can get very close to the giraffes and feed them (kids love feeding the giraffes). Admission to the zoo is $12 for adults, $10 for senior citizens, and $6 for kids. There are often new exhibits to explore at the zoo so if you haven't been there in a while you may want to take another look!
May Natural History Museum- This is such a neat place to visit! It is located off 710 Rock Creek Canyon Rd. near Hwy 115. The John May Museum Center is comprised of the May Natural History Museum and the Space Museum. I didn't care much for the Space Museum but the May Natural History Museum was well worth the visit. The exhibits are just amazing; from enormous tropical insects, spiders, and beetles to beautiful butterflies. The museum is open from May 1st through October 1st and I will definitely have to write a post about it when I go this spring so you can get a better idea about what this museum is all about. It is not very large but you can spend hours there! Oh, and one important detail: the invertebrates on display are not alive!
Rocky Mountain Dinosaur Resource Center (RMDRC) – RMDRC is only a few years old and located off of Hwy 24 in Woodland Park. There are many exhibits of dinosaurs and prehistoric reptiles to view at RMDRC including more than 30 life size specimens. Exhibits do change periodically and there is a working fossil laboratory in-house to view as well.