Home sales increased in El Paso County by 6% for the month of June when compared to the previous month of May. Compared this time last year, single family home sales are 8% higher.
There were 10 additional single family home sales in June 2014. Compared to the previous month of May, both the average sales price ($267,379) and the median sales price ($237,000) increased. Last June, the average sales price was $255,590 and the median sales price was $225,000. There continues to be competition among home buyers in the current real estate market and sellers are receiving multiple offers.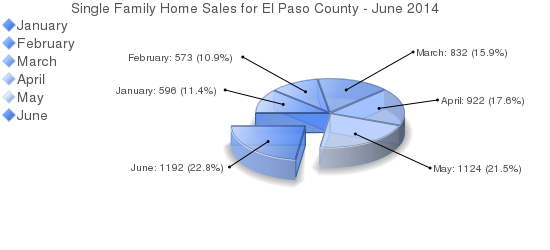 **Information gathered from the Pikes Peak MLS is deemed reliable but not guaranteed
Also Read: El Paso County Inventory Statistics for June 2014
Search for homes in Colorado Springs
For further information on available Homes in Colorado Springs contact your Colorado Springs Real Estate Agent, Patricia Beck.
Related Posts
Home sales decreased in El Paso County by 13.9% for the month…

Home inventory levels have increased by 19.3% for the month of September…

Home inventory levels have increased by 40.3% for the month of July…