Home sales increased by 18% in El Paso County for the month of May when compared to the previous month of April!  Sales were 15.8% higher when compared to May 2011.
There were 126 additional single family home sales in May 2012 when compared to May 2011. There were also an additional 1,151 single family homes for sale in May 2011. Inventory levels continue to remain much lower than they were around this time last year in Colorado Springs.
Compared to the previous month of April, both the average sales price ($233,065) and the median sales price ($210,000) increased and have been steadily increasing since the beginning of the year.  Last May, the average sales price was $213,270 and the median sales price was $185,000. Buyers are taking advantage of the opportunity to purchase a home with the current low interest rates and home prices.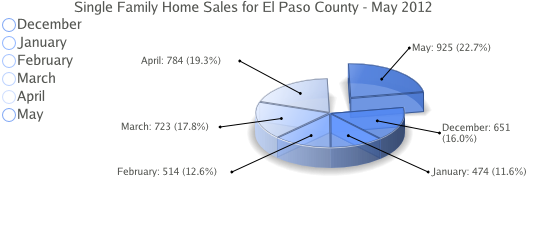 **Information gathered from the Pikes Peak MLS is deemed reliable but not guaranteed
Also Read: El Paso County Inventory Statistics for May 2012
Search for homes in Colorado Springs
For further information on available Homes in Colorado Springs contact your Colorado Springs Real Estate Agent, Patricia Beck.
Related Posts
Home sales decreased in El Paso County by 13.9% for the month…

Home inventory levels have increased by 19.3% for the month of September…

Home inventory levels have increased by 40.3% for the month of July…