Nationwide Open House Weekend is around the corner!  You can stop by any listing that is participating in the Nationwide Open House Weekend on April 20th and 21st.  How do you know if a house for sale is being held open this weekend in Colorado Springs?  All you need to do is go to PPAR.com and click on the Open House Search icon.  When you do, you will have the option to search for homes one of two ways:  Price Range or Area.
After performing the search in the price range of $375,000 to $400,000 I see my listing on 10466 Pictured Rocks Dr is at the top of the list (see below).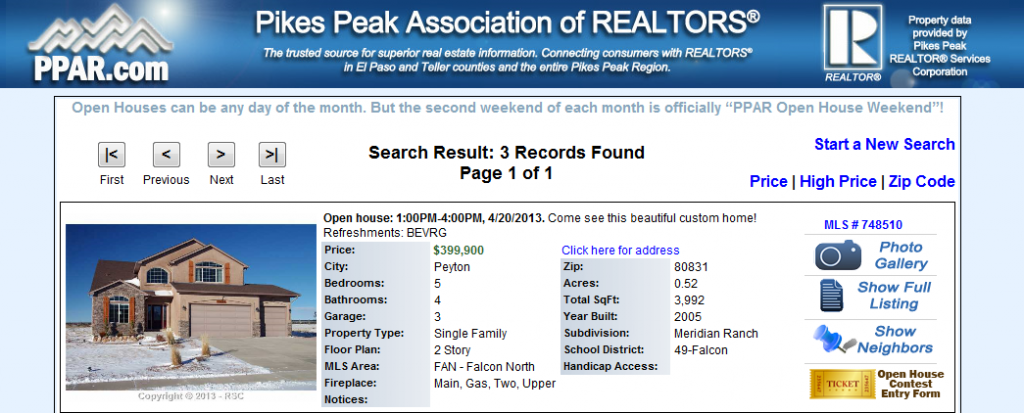 If you want to participate in the contest this weekend, make sure and print the Golden Ticket entry form for each house you plan to visit.  If you forget, the agent hosting the Open House you visit, should have one for you to fill out.  Participants have the chance to win an iPad or Kindle Fire.
If there is a home that you would like to view that is not available to see during National Open House Weekend contact a real estate agent in Colorado Springs to schedule a showing for you.
Reasons to visit homes during the Nationwide Open House THIS Weekend:
1.) See how much house you can buy in various price ranges in Colorado Springs.
2.) Get ideas when it comes to design, remodeling, color schemes, decor, kitchen and baths, etc.. for you own home.
3.) Have a chance to visit as many homes you like without any pressure, on your own, at your own pace.
4.) The more homes you visit, the more of a chance you have to win the contest!
5.) Get a feel for homes in different areas of town.
You don't have to be in the market to buy a home in order to visit homes this weekend.  You may just want ideas or maybe you are thinking of buying a home in the next year and would like to see a few homes for sale in Colorado Springs. Homeowners who are thinking about selling may even want to stop by a few Open Houses.
If you are in the market to purchase a home and are already working with a real estate agent in Colorado Springs, you can still visit Open Houses this weekend.  You may just want to let agents know you have a real estate agent if they ask.  If you are not working with an agent, you may meet an agent you would really like to partner with to assist you in finding a home.
Whatever your reason, hopefully you can get out to see a home or two during the Nationwide Open House Weekend this Saturday and Sunday!
Who knows, you may find your dream home this weekend!
Related Posts
5535 Sunrise Mesa Dr, Colorado Springs, CO 80924 Video   Information about…

146 Ely St, Colorado Springs, CO 80911   Video   Information about…

980 Mesa Valley Rd Unit 104, Colorado Springs, CO 80907 Information…