Home inventory increased by 4% for the month of June 2009 when compared to six months ago (January 2009). Compared to the previous month of May, there was a slight increase (1.6%) in single family homes for sale. It is good that we are seeing inventory levels remaining steady while home sales are increasing; this will ultimately reduce the months of inventory in Colorado Springs.
Single Family Home Inventory in the Pikes Peak MLS was 22% higher in June 2008!
Looking at stats for June 2009, Single Family Home inventory in the Pikes Peak MLS is sitting at 5.8 months (compared to 6 months in May). We have not seen the inventory this low in a long time! There is a balanced market in Colorado Springs when inventory sits at 6 months; the market is definitely improving for sellers.
Many buyers are probably noticing bidding wars and multiple offers on properties at this time, particularly with bank owned properties.  Additionally, I have observed many sellers are not negotiating as much on the price as they were a few months ago.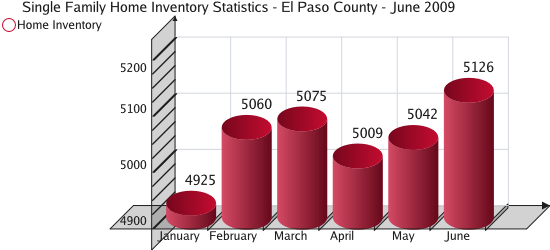 *Information gathered from the Pikes Peak MLS is deemed reliable but not guaranteed
Patio homes are included in these stats
Search for homes in Colorado Springs
For more information on Colorado Springs Real Estate or the Colorado Springs Area contact me or visit my website.
Related Posts
Home sales decreased in El Paso County by 13.9% for the month…

Home inventory levels have increased by 19.3% for the month of September…

Home inventory levels have increased by 40.3% for the month of July…