Lighting is often overlooked by many homeowners and upgrading light fixtures in the home can make a home more appealing. If you are planning on selling your home in Colorado Springs, you may want to consider upgrading your light fixtures if they look dated.
If they are light fixtures from the 1980's, they are definitely dated. If your light fixtures are gold, they are dated as well.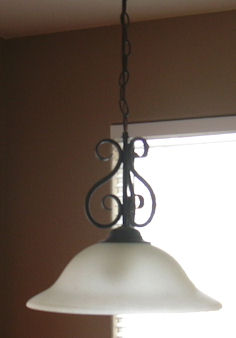 If you are going to sell your home in Colorado Springs, you want the light fixtures in your home to appeal to many buyers so sticking with basics is probably best. You can buy a few ceiling fixtures for your hallways in a pack at Lowe's that are inexpensive but look nice. Lighting can become expensive so stick to a budget. Brushed nickel, chrome, satin, and venetian bronze finishes are all desirable to various home buyers in Colorado Springs.
Changing out your ceiling fans, kitchen light over your table, and hallway lights will make an enormous difference!! When you purchase light bulbs for your fixtures, go green with energy efficient bulbs.  Buying light bulbs that emit a natural light instead of the bright yellow light may also make a difference when you turn all of the lights on in your home for showings. You want buyers to feel comfortable in your home and lack of lighting or ultra bright lighting will not achieve that effect. Change out all of your light bulbs that do not work as well. Lighting in your Colorado Springs home is very important, so
sellers need to remember this detail when planning to sell their home in Colorado Springs.
To find out more about Colorado Springs Realty and the Colorado Springs Area contact me or visit my website.
Related Posts
5535 Sunrise Mesa Dr, Colorado Springs, CO 80924 Video   Information about…

146 Ely St, Colorado Springs, CO 80911   Video   Information about…

980 Mesa Valley Rd Unit 104, Colorado Springs, CO 80907 Information…