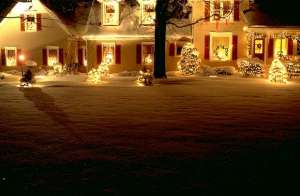 1. Less Competition – Many sellers in Colorado Springs take their homes off the market if they haven't sold until springtime.
2. Show off your home – During Christmas time, you can make your home really stand out with Christmas lights and décor!  Have your agent hold an open house and people will feel at home while sipping on hot apple cider.
3. Better comps – Since March through August is the busiest time for real estate in Colorado Springs, sold comps in your area should be higher if you list during the cold months vs. listing during the spring and summer months.  Remember, appraisers go back six months when reviewing sold comparable properties in your area.
4. Happy House Hunting – While everyone else is busy listing their homes next summer, you can be busy picking your next home from the large selection of homes on the market!  Your home has to sell by summer for this to happen of course.
5. Time to make changes – If you list your home during the summer months and receive feedback to make changes (i.e. paint, landscaping, carpet, etc…) you have to scurry.  If you list during the winter, you can take feedback into consideration and make any necessary changes before the busy season (if your home remains on the market).
Related Articles:
Colorado Springs Home Sellers – Are you serious about selling?
When selling your Colorado Springs home stirs up emotions
Colorado Springs Realtor Patricia Beck, providing real estate services to home buyers and sellers.
Related Posts
5535 Sunrise Mesa Dr, Colorado Springs, CO 80924 Video   Information about…

146 Ely St, Colorado Springs, CO 80911   Video   Information about…

980 Mesa Valley Rd Unit 104, Colorado Springs, CO 80907 Information…