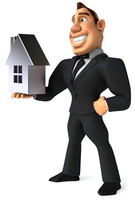 Until January 1, 2011, investors who purchase a short sale property are required to use a different contract under the Colorado Foreclosure Protection Act.  The purpose of the act is to protect home sellers who are facing foreclosure and receive a purchase offer from a buyer who is not planning on occupying the home as a principal residence.
As a result of House Bill 1133, beginning in 2011, investors will no longer be required to use a different contract when submitting a purchase offer on a short sale property unless all of the following apply:  1.) There is equity in the home for sale that is in foreclosure 2.) The home is the seller's primary residence 3.) The buyer is not going to occupy the home as a principal residence.
It is also required that a notice be provided to the sellers if English is not their primary language.  See section 7. 6-1-1120, Colorado Revised Statutes, for more information regarding the amended sections relating to the language spoken by the seller.
If you are an investor looking to purchase a property, consult with a Colorado Springs Real Estate Agent for assistance.
Also Read: Changes for Investors in 2011 – Part 2
Related Posts
Due to House Bill 1133, investors will experience some changes when it…