VA is offering Energy-Efficient Mortgages (EEM) to borrowers who are interested in making energy-efficient improvements to their home. New borrowers or current homeowners interested in re-financing can increase their loan amount to account for the Green improvements that will be made to the home.
Depending on how much the borrower's mortgage payment is increased as a result of the EEM, the improvements made will need to reduce the cost of utilities in the home in order to be worthwhile. There are situations in which the EEM will require approval by the underwriter.
If $3,000 or less is wrapped into the loan for energy-efficient improvements, the borrower will need to have written estimates for each improvement to be completed. If the EEM is more than $3,000 but less than $6,000, borrowers will also need to demonstrate that the increase in their mortgage payment does not exceed the monthly savings in utilities. If the EEM is more than $6,000, the appraisal will have to support the new increase in the loan amount to be approved.
In many instances, the improvements may not be completed before closing so the borrower will have to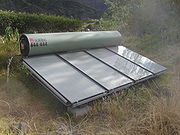 document that the "Green" money is going to be placed into a separate account, to be used for energy-efficient improvements only. Energy-efficient appliances do not count. Energy-efficient improvements may include: Solar systems, Low-E windows, programmable thermostats, or insulation. Check with VA to find out if installing an energy-efficient furnace or water heater is observed as an improvement.
Wrapping the cost of energy-efficient improvements into the loan should not impact the veteran's entitlement but may increase the VA funding fee.
Search for homes in Colorado Springs
For more information on Colorado Springs Real Estate or the Colorado Springs Area contact me or visit my website.
Related Posts
5535 Sunrise Mesa Dr, Colorado Springs, CO 80924 Video   Information about…

146 Ely St, Colorado Springs, CO 80911   Video   Information about…

980 Mesa Valley Rd Unit 104, Colorado Springs, CO 80907 Information…