When it comes to upgrading or remodeling, home owners should research the potential return on investment to decide if a home improvement is worthwhile.  Over improving a home for the neighborhood is another factor to be aware of when it comes to remodels.  If other homes in the neighborhood do not have granite counter tops, a home owner may not be able to recoup much if any of the expense.
A new Cost vs. Value Report was released for 2010-11 and similar to last year, the top home improvements included adding a wood deck, replacing an entry door, installing vinyl windows, and finishing a basement.  Replacing a home's siding with vinyl or fiber cement siding and replacing a garage door ranked high on exterior improvements.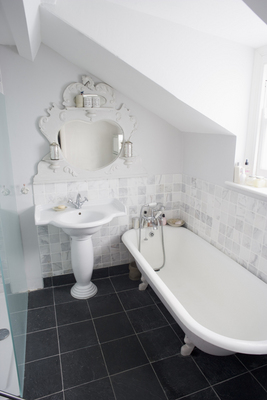 Kitchen and bathroom remodels always make an enormous difference but can be costly.  Which room to remodel and whether major or minor changes should be made depends on how long a home owner plans to live in the  home, the current real estate market, available funds for home improvements, and the overall condition of the home.  If the entire home requires an overhaul, remodeling the kitchen alone and leaving the rest of the home as is may disrupt the flow of the home as a whole.  In this type of situation, completing minor remodels throughout the home may yield better results.  If done properly, minor remodels can go a long way in a home.
Pricing out a minor vs. major remodel in the most critical areas of the home, can help a home owner prioritize projects when trying to make a decision.  The kitchen is usually the most frequented area of the home so focusing on the kitchen and holding off on upgrades to the master bathroom may make more sense.
Replacing the entry door is one of the most inexpensive items to replace that also brings a great return on investment.  Entry doors can really change the look of the exterior of a home and set the stage for the rest of the home since it is the first thing people see.
Some remodels require permits so check with Pikes Peak Regional Building Department to find out if a permit is required for the project you are planning.  When the time comes, trying to sell a home without permitted work can be a headache so getting it taken care of right away eliminates the hassle later.
Incorporating Green materials into a home remodel is a plus when it comes to resale; many buyers in today's real estate market prefer homes with Green features.
Colorado Springs Real Estate information and services
Related Posts
5535 Sunrise Mesa Dr, Colorado Springs, CO 80924 Video   Information about…

146 Ely St, Colorado Springs, CO 80911   Video   Information about…

980 Mesa Valley Rd Unit 104, Colorado Springs, CO 80907 Information…