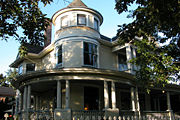 The Old North End is known for it's tree lined streets and Victorian Homes in the central area of Colorado Springs.   Many home buyers who like the West side of Colorado Springs and enjoy being a little closer to the mountains, can find Victorian homes in Old Colorado City as well.
In fact, "Victorian" refers to an era (1837-1901) not a type of home!  Over the years, people have generally referred to homes built in this era as Victorian Style Homes.  Either way, you recognize a Victorian Home when you see one!  They usually have large porches, are painted with multiple colors, and are usually one or two-story floor plans here in Colorado Springs.  There is usually more detail  to the exterior design of the home (i.e. patterned exterior siding and decorative trim) when compared to homes built in recent years.
One thing buyers love about Victorian homes is that they are all so different and not cookie cutter models that are seen in newer subdivisions of Colorado Springs.  Each home looks unique and different than the home next door.  Many buyers like living in homes with so much history and although Victorian homes are appealing, it is important to consider all factors when purchasing such an old home.
1.  Clay Pipes– Clay pipes are no longer used in the building of new homes, PVC pipes are used instead.  Many Victorian homes also have older trees on the property with large root systems.  If the roots go into the clay pipes, it can be costly.  Not only will you have problems with your toilets but hiring someone to dig down and replace
the pipe will not be cheap.  Find out what kind of pipes were used when the home was built and if any sections of piping have been replaced.
2.  Electrical Panel and wiring– These turn of the century homes often have knob and tube wiring that is often viewed to be a fire or electrical hazard by insurance
companies, especially, if the wiring has been improperly modified.  Many of the electrical panels from this time frame could only support a few outlets in each room and had far fewer circuits than today's homes.  This older type of wiring cannot support computers and other major appliances for a household so purchasing a home that does not have an upgraded electrical panel or wiring may be a hassle and costly to change out.
3.  Plaster walls– Older homes have interior walls made of plaster instead of drywall. Plaster is more difficult to work with and patch if holes are made in the wall.  Have the home inspected for asbestos and lead paint since it was commonly used during the Victorian time period.
4.  Roof– Make sure and have the roof inspected because Victorian homes may have layers of shingles; El Paso County requires no more than two layers of shingles on a roof.  An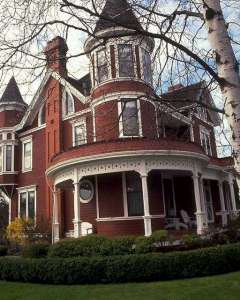 inspector can ensure the roof is up to code and safe.
5.  Heating System–  Your heating bill can be expensive if you continue to utilize the original heating system in a Victorian home.  Find out if the home has been upgraded to a central heating system or what type of heating method is being used (i.e. floor furnaces).  Floor furnaces do not utilize ducts to heat a room so upgrading your heating system may include installing ductwork in the home.  Consult with an HVAC professional for more information about heating a Victorian home.
6.  Permits– If additions or changes have been made to the home, have your Colorado Springs Realtor find out if there are permits for work completed on the home.  Check with Pikes Peak Regional Building Department regarding code requirements for older homes.
Victorian homes are beautiful and have so much history but it is important to complete the necessary research and inspections before purchasing one of these homes.
For further information on available Real Estate in Colorado Springs contact your Colorado Springs Realtor, Patricia Beck.
Related Posts