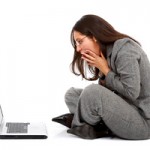 There is no doubt about it, short sales can be difficult when you are the owner.  The banks require an enormous amount of information and paperwork from the seller and a short sale transaction can take time to complete.  When you reach the end, as a seller, you are happy the short sale is closed and completed.  Then one day, you go check your account online with the bank and still see the mortgage debt.  Panic sets in and you start wondering if the bank really did approve/accept the short sale as a full payment.
As you have already experienced when short selling your home, bank processes take time, a lot of time.  For example, if you had an FHA loan that was serviced by ABC bank, there is a claim that has to be completed between FHA and the bank.  The debt will continue to show in your mortgage balance if you check your account until FHA pays the claim, typically 6-12 months.  Keep in mind, it can take as little as 90 days or as long as 18 months for things to get squared away.
Everyone's situation is different so if you are unsure what is going on with the debt still showing up on your account, just pick up the phone and call the bank or the real estate agent who assisted you in the short sale of your Colorado Springs home.

Related Posts