Home sales increased by 73.2% in El Paso County for the month of March when compared to February.
There were 53 additional single family home sales in March 2011 when compared to March 2010. There were also 303 additional single family homes for sale in March 2010.  The real estate market is showing signs of improvement but we will have to see what happens over the next few months.  In order for the market to stabilize and to create more demand, inventory levels need to remain low while home sales continue to increase.
Compared to the previous month of February, the average sales price ($211,426) and the median sales price ($180,000) both decreased. Last March, the average sales price was $215,625 and the median sales price was $189,900.
Both the average and the median sales price have been fluctuating quite a bit over the past few months.  This fluctuation can most likely be attributed to the number of short sales and bank owned properties that are closing each month.  It can take months to receive short sale approval from banks so these transactions to close.  It is possible many of the short sales that were awaiting bank approval, finally closed in March and in turn, affected the average and median sales price for Colorado Springs.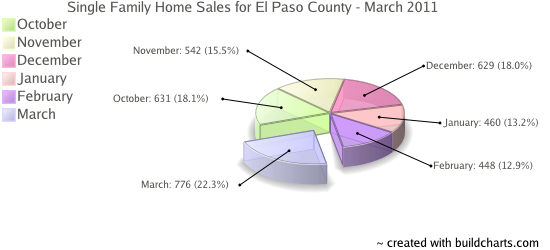 **Information gathered from the Pikes Peak MLS is deemed reliable but not guaranteed
Search for homes in Colorado Springs
For further information on available Homes in Colorado Springs contact your Colorado Springs Real Estate Agent, Patricia Beck.
Related Posts
Home sales decreased in El Paso County by 13.9% for the month…

Home inventory levels have increased by 19.3% for the month of September…

Home inventory levels have increased by 40.3% for the month of July…