Classic Homes is one of the five builders providing new homes in the Wolf Ranch community; they are also rated as one of the top home builders by J.D. Power and Associates.    Home buyers have until the end of April  to take advantage of their incentive offering free finished basements.  For those interested in other areas of Colorado Springs, Classic is also building new homes in Flying Horse, Meridian Ranch, Cumbre Vista, Banning Lewis Ranch, Barnstormer's Landing, and three sites in Indigo Ranch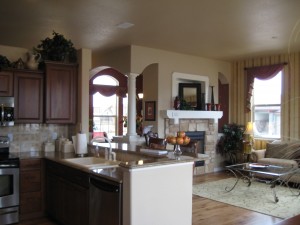 The new homes built by Classic range from $214,000 to the high $300s in Wolf Ranch.  In addition to being an ENERGY STAR builder, Classic takes pride in providing excellent customer service to buyers throughout the entire process.  Classic is kind enough to open up their model home for Bingo night once a month for homeowners in the neighborhood.
When building a new home, buyers look forward to customizing their home through choices available in the Classic Design Studio.  Classic Homes offers a Preview Night the 1st and 3rd Tuesdays of each month from 5:00pm – 7:00pm.  Buyers have the opportunity to see what design options are offered through the builder for customization of their new home including standard and upgrade features.  The Preview Night is not limited to buyers who are under contract, visitors are also welcome.  The Classic Design Studio is located of of 6285 Corporate Drive in the Northwest area of Colorado Springs.
Hiring a Colorado Springs real estate agent to advocate for you is the first step to take if you are interested in purchasing a new home.
 Contact me about buying a home in Colorado Springs at 719-660-9058
Additional Reading about buying a new home in Colorado Springs:
5 reasons you should work with a Realtor when buying a new home
Additional costs to consider when building a new home
What you need to know about builder incentives
For further information on New Homes in Colorado Springs contact your Colorado Springs Real Estate Agent, Patricia Beck.
Related Posts