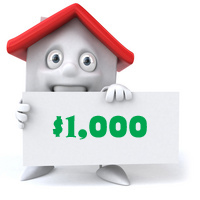 Home buyers in Colorado Springs that would like to buy a home but cannot afford the down payment can choose to utilize down payment assistance through the Colorado Housing and Finance Authority (CHFA).
Borrowers must meet certain requirements in order to qualify for CHFA financing.  Home buyers qualifying for CHFA are required to make a minimum contribution of $1,000 into the transaction.  The $1,000 can include Earnest Money, Inspection costs, and the fee for the appraisal.
In the situation where the earnest money is higher than $1,000, CHFA will not allow any of the earnest money to be refunded to the borrower at closing even if the buyer contribution has exceeded $1,000.  Buyers who are counting on receiving all or a portion of their earnest money back at closing need to be aware of this CHFA guideline that can be easily overlooked.
Additional Reading:
For information on the buying process and available Homes in Colorado Springs please go to www.patricia-beck.com.
Related Posts
Great news for sellers in Colorado Springs that experienced a short…

Many home buyers in Colorado Springs that would like to buy a…