One very important question sellers in Colorado Springs have to ask themselves before listing their home for sale is:  "It is more important that I sell my home for top dollar or that I sell my home quickly?"  If  your home is located in an area of Colorado Springs that is highly desirable and in perfect condition, there is always the possibility you may sell your home quickly and for the price you want.  It is a competitive market in Colorado Springs so it is important to ask yourself this question early on in the game.
If you have to be out of your home by a specific date and you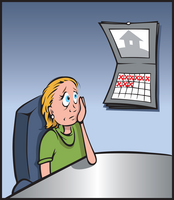 want your home to sell quickly than pricing it to sell is very important.  In order for it to sell quickly, the home needs to be priced in the lower range of the market values in the area and below the
competition.
If you are not in a rush to sell and would rather wait until you get the price you are asking for, pricing correctly is still important.  If you overprice your home, it may not sell no matter how long you wait for the right buyer.  It is important you list your home no higher than 3% of the market value range in your area.
The market will let you know quickly if your home is overpriced.  How you ask?  The answer to that question is very simple, you will have no showings!
Keep in mind, overpricing your home even if you lower it later can cause you to lose many potential buyers within the first few weeks that it is for sale.  Remember, the most activity usually occurs within the first four weeks after a home is listed for sale.
Set a goal for the day you would like your home sold.  The longer it sits on the market, the more money is coming out of your pocket for that mortgage payment.
Make sure and review market information and statistics for your area with your Colorado Springs Realtor in order to price your home correctly.
Providing real estate information and services for Colorado Springs home buyers and sellers.
Related Posts
5535 Sunrise Mesa Dr, Colorado Springs, CO 80924 Video   Information about…

146 Ely St, Colorado Springs, CO 80911   Video   Information about…

980 Mesa Valley Rd Unit 104, Colorado Springs, CO 80907 Information…