After years of living in a home, carpet may stain, look worn, or dated; cleaning the carpets in a home may not always take care of the problem.  Home sellers have a few options when it comes to worn carpet: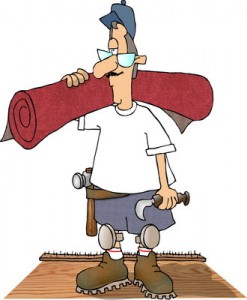 1. Leave the carpet alone and sell the home as is
2. Provide a carpet allowance to the buyer
3. Replace the carpet
If the seller's financial situation does not allow for a carpet replacement or allowance, adjusting the price to compensate for the carpet may be necessary.  Many sellers struggle with the decision of providing a carpet allowance vs. having new carpet installed; there are pros and cons to both.
Instead of having to pay for new carpet out of pocket up front, sellers may prefer a carpet allowance since it can come out of their net proceeds at closing.  Although an allowance gives buyers the opportunity to choose a carpet of their preference, some buyers may not be able to look past the original carpet during showings regardless if an allowance is provided.
Most buyers in this real estate market do prefer a home that is move in ready.  Buyers do not have to visualize what a home would look like with new carpet if it's already there!
Providing real estate information and services for Colorado Springs home buyers and sellers.
Related Posts