If you are buying a home in Colorado Springs, make sure your inspector goes onto the roof and inspects it thoroughly. Believe it or not, there are inspectors who do not go on the roof to inspect it! If the roof needs replacement and the seller is not willing to pay for a new roof, and you still plan to buy the home, make a phone call to your homeowner's insurance.
Many property insurance companies will not insure a home with a bad roof and if they do insure the home, the roof may not be covered. If you decide to file a claim with your homeowner's insurance for a new roof after buying the home, the insurance company may not cover it since it was a pre-existing problem prior to your purch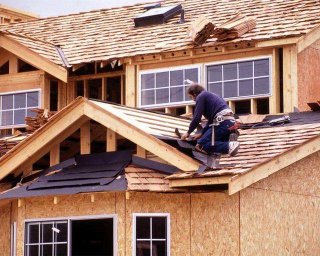 asing the home.
Many insurance companies who are willing to insure the home require the roof be replaced within a specified amount of time (i.e. 30 days) in order for the buyer to have continued coverage. Why are they so strict?  The insurance company doesn't want to run the risk of paying for any damage inside the home that is caused from a bad roof such as water damage.
Colorado Springs home buyers contact your homeowner's insurance company before purchasing a home with a bad roof because it may affect your ability to obtain coverage.
If you are selling a home in Colorado Springs the roof may become an issue during inspection as well.  Before you refuse to replace the roof for a buyer remember this issue will come up again and again with other buyers until the problem is corrected.  In other words, it is wise to take care of these big ticket items; especially, if you already know you have a bad roof.
So what steps do you take?  Contact your homeowner's insurance to file a claim regarding the roof on your home.  An insurance adjuster will come out and assess the roof's condition before the insurance company covers the cost of a roof overlay or replacement.  You may have a deductible anywhere from $500-$1000 that is required.
If your roof only has one layer of shingles, according to Pikes Peak Regional Building Department, you can overlay one additional layer of shingles.  On the other hand, if your roof has two layers of shingles, the PPRBD does not allow more than two layers of shingles on roofs in Colorado Springs.  The roofing company will have to tear off the two layers of shingles and install a new roof.  A roof overlay is usually cheaper but not always recommended by roofing contractors.
Providing real estate information and services for Colorado Springs home buyers and sellers.
Related Posts
5535 Sunrise Mesa Dr, Colorado Springs, CO 80924 Video   Information about…

146 Ely St, Colorado Springs, CO 80911   Video   Information about…

980 Mesa Valley Rd Unit 104, Colorado Springs, CO 80907 Information…