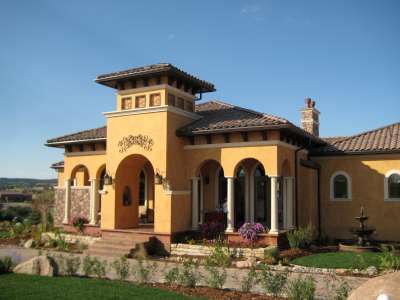 Whether you need ideas for your own home or you are curious what features are popular in new homes, the time has arrived for the Parade of Homes in Colorado Springs!  The Housing and Building Association is presenting the 2009 Parade of Homes between August 7 through August 23.  The homes are open from 11a.m. to 7p.m. daily. 
There are 29 homes to view this year encompassing model (16) and custom built (10) homes.  Eighteen of the homes are Handicap Accesible, seven are BuiltGreen Homes, and fifteen are Energy Star Homes. 
The homes vary in price range from the mid-190's to $2.0 million and above.  The highest priced home in the Parade this year is located in Flying Horse and is custom built by Tara Homes; it offers 10,400 square feet and is listed at $3,900,000.  A newer home builder, Colorado Custom Homes, also has a home in the Parade this year. 
Tickets (accompanied by a map) are sold at Safeway for $10 for Adults and $5 for Seniors. Mike Shaw is also offering free Military tickets while supplies last.  You can view the map of all of the Parade of Homes in Colorado Springs.
If you want to avoid traffic, go on weekdays and avoid the last weekend (August 22-23). 
Search for homes in Colorado Springs
For more information on Colorado Springs Real Estate or the Colorado Springs Area contact me or visit my website
Related Posts
5535 Sunrise Mesa Dr, Colorado Springs, CO 80924 Video   Information about…

146 Ely St, Colorado Springs, CO 80911   Video   Information about…

980 Mesa Valley Rd Unit 104, Colorado Springs, CO 80907 Information…