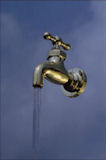 Many homes in Colorado Springs built in the mid 70's through the late 90's had Polybutylene plumbing installed since it was more economical than copper.  It was later discovered the Polybutylene pipes had problems with deterioration in addition to problems with the aluminum fittings.  As you can imagine, this would cause flooding and major water problems for homeowners.
Homeowners who have Polybutylene plumbing may find it more difficult to sell their home; buyers do not want to incur the cost of replacing all of the plumbing in the house with copper.  If a buyer chooses to purchase a home with Polybutylene piping, it may be a challenge obtaining home owner's insurance since Polybutylene pipes that fail or burst can cause extensive water damage to a home resulting in an insurance claim.
If you think you may have Polybutylene plumbing in your home, you may want to hire a licensed plumber to inspect the plumbing and advise you on what course of action to take.
Colorado Springs Real Estate information and services.
Related Posts
If you are thinking of relocating to Colorado Springs, feel free to…

Many home buyers interested in purchasing a property in Colorado Springs say…

Ideally, buyers want to see the home they are purchasing but…