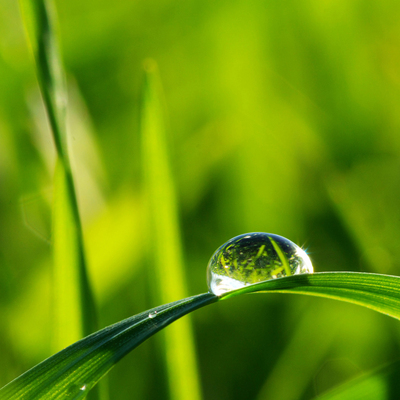 Blade to Blade Lawn & Landscape has provided a few tips to prepare your lawn for the upcoming season…
We are near the end of the growing season for the landscapes this year but don't be fooled the next two months will be critical in how the lawns perform next year! We will outline a plan that will help you and your lawn face and overcome the terrible start that we had this spring. Let me sum up this year for you so you can understand and prepare for the next season. Last year was very hard with the heat and the winter was merciless with the lack of adequate snow. The spring was delayed by very cold temperatures and the onset of the summer heat was with us before July. In a  nutshell, if you did not have a very healthy lawn in May, you probably had a lawn that struggled this year. This was compounded by decisions by most water authorities to limit much needed water to heal up damage from the previous year. The recent rains have helped a lot, however it takes much longer for healing to take place. We are going to help our customers avoid catastrophe and it begins now.
How to survive the upcoming winter:
A. Water properly
B. Fertilize properly
C. Aerate
D. Winter watering-plan on it!
After getting beat up this year with the whole water is more expensive than gold sentiment you may be tempted to slack off with the watering-don't.  Now is the time to heal the lawn from severe summer heat and a lack of moisture. Now will set the stage for winter and ultimately how your lawn will survive it. Those who decide to shut off the sprinklers mid-September will probably be getting a visit from the lawn angel of death this winter while they are enjoying the comforts of a fireplace and finishing off that bowl of dip while watching their favorite team win the Superbowl. Healthy lawns have natural resistance, weak ones do not!
Make sure that if you are not already on a fertilization program that you finish out the year strong! Fertilization provides the lawn with key nutrients that are need to rebuild, repair and provide resistance to natural stresses. Your last application is the most important one! There is no deadline to get one down , but it is a good idea to have one down prior to December.
Aeration is by far one of the most important things you can do for the lawn. The process of aeration by mechanical means with essentially cultivation of the soil. For those of you who grew up on a farm or ever had a vegetable garden, you will recognize the importance of doing this on a regular basis.
Winter watering, the difference (secret) between a really great lawn and one that gets 300 square feet replaced right next to the mailbox. Cool season grasses, the ones that grow here continue to require water long after the irrigation system gets shut down for the winter. On average, the typical bluegrass lawn needs about 1/4″ of moisture in the dead of winter! This usually comes in the form of snow and is greatly needs in the driest time of the year Jan-Feb. In a nutshell, if we do not get 6″-12″ of snow every 10-14 days you need to plan on watering your landscape. Not just the grass, but all of the trees, shrubs and perennials! A couple hundred dollars worth of water can prevent thousands of dollars worth of lawn repair, take heed!
We really would like to avoid having to deal with lawn destruction, it is much cheaper to prevent it. If you have any questions on how we can help you avoid disaster, please check out our website or feel free to call us and we can help!
Brian Beck with BLADE to BLADE Lawn & Landscape
719-380-0136
www.springslawns.com
BRIANB@SPRINGSLAWNS.COM
Related Posts
5535 Sunrise Mesa Dr, Colorado Springs, CO 80924 Video   Information about…

146 Ely St, Colorado Springs, CO 80911   Video   Information about…

980 Mesa Valley Rd Unit 104, Colorado Springs, CO 80907 Information…