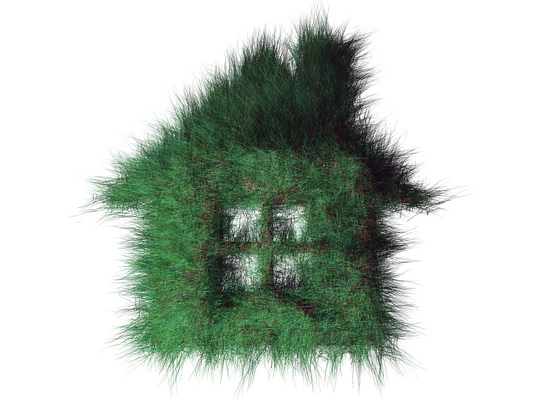 With warm weather around the corner, Blade to Blade Lawn & Landscape has provided a few tips to prepare your lawn for the upcoming season…
As you are probably aware, we are coming off of yet another dry winter. Although we have had more precipitation than last year, we are still down in total as La Ñina is still dominating our weather pattern and yielding a mild, dry winter. Please, for the sake of your lawn, we urge you to start watering if you have not been doing so already. We experienced a terrible start to the 2011 season due to the driest winter on record, which subsequently caused a great deal of damage to the landscapes across the county. You will generally need to water you landscape every other week (if we don't get 6-12" of snow in a two week period) to stave off winterkill and keep the mites off of the lawn and doing damage.
March: Things start to warm up and the days get longer.
Fall cleanups/Spring cleanups: Depending on whether we got to you before the winter and the snow that prevents this type of work from being performed, cleaning up the debris off of your property not only looks better, it can help plants from being damaged that get smothered by the debris.
Short Mowing:  Over the winter, contrary to popular belief, the turf does not die but is very much alive and will grow slightly over the winter months. This accumulation will hamper the absorption of moisture into the lawn. For this reason we "short mow" all of our package customer's lawns (2.5") to help maximize moisture getting to the roots, speeds up the transition from dormancy and leaves the lawn in an attractive, aesthetically pleasing appearance. This service should only be done while the lawn is in a dormant state.
Pavement Edging: A well edged lawn really defines the lawn and gives it a clean appearance. Once you cut back the grass off of the pavement, not only does it look better, but it is easier to maintain. We edge all of our service package customers throughout the growing months, beginning in March.
Shrub and Tree pruning/trimming: Trimming trees and shrubs may be done practically any time of the year, however, trimming them during the cooler months are easier on the plants.
April: The weather continues to get warmer and the plants start to wake up.
Core Aeration: Aeration is the cultivation of the soil. Its benefits include: Lessening soil compaction, Managing thatch level (accumulated dead root growth which impedes water penetration), increasing water penetration, increasing air circulation to the roots, and promoting new root growth around the core holes. This service may be done anytime the temperatures have been consistently over 50 degrees for three or four days in a row. Due to the fact that aeration heavily relies on a moist soil to facilitate the aerator tines penetrating the soil adequately, irrigation or heavy precipitation is necessary to perform this service properly.
Fertilization: April is time to start feeding the lawn, getting it prepared for the May growing season. While there is no deadline for an application, ideally an application should be applied several weeks prior to May to ensure proper nutrition.
Weed Control: Weeds grow at a different pace and typically have a different growing season. Grassy weeds such as Crabgrass, must be treated early to prevent germination. Other weeds such as Dandelions also start to emerge.
May: Soil temperatures increase dramatically, morning lows are consistently above 40º, combined with precipitation  and irrigation, the turf hits critical mass and vigorous growth occurs, mowing begins.
Sprinkler System Activation: As soon as the temperatures stay consistently above 35º, it is time to turn on your sprinkler system, winter and early spring watering should have continued manually while your irrigation was winterized.
Weekly Mowing and Trimming:  The grass slowly begins to grow and increases in speed and volume as the month progresses. Be sure to monitor your irrigation system for failures and broken components to prevent lawn damage.
This is a brief list of services that get the landscapes moving in the early spring. For more information please visit www.springslawns.com, or contact us for details and further information.
We are looking forward to helping you with your landscaping needs this year. If you have any questions, concerns, or suggestions as to how we can improve our service or your landscape please contact us!  Thank you again for your business, we do appreciate it!
Brian Beck with BLADE to BLADE Lawn & Landscape
719-380-0136
www.springslawns.com
BRIANB@SPRINGSLAWNS.COM
We are now on Facebook, we will be posting regularly to keep customers abreast of timely data and pressing concerns. If you want to know the up to date information, check here first! Be sure to like us to get regular posts from us.
* We are offering some incentives to our customers this year to allow you to experience some services you might not have participated in before. Using Revive® is an excellent tool to combat heat stress in the lawn and help drive moisture to the roots and prevent evaporation due to water pooling on the surface. #1- Purchase one application of Revive® and get the second application 50% off. Purchase two applications and get the third application free. Staying on top of your irrigation system is critical and maintaining it prevents a lot of grief. #2- Sign up for our sprinkler service package and we will throw in a free month of winter watering. #3- Sign up for our Aeration and Fertilization Package and we will aerate your lawn in the fall for half price. #4- Refer a friend to us that signs up for any of our service packages and we will give you one free application of Revive®.
Related Posts
5535 Sunrise Mesa Dr, Colorado Springs, CO 80924 Video   Information about…

146 Ely St, Colorado Springs, CO 80911   Video   Information about…

980 Mesa Valley Rd Unit 104, Colorado Springs, CO 80907 Information…