Most people don't even think about their roof unless there is a problem with a leak, hail damage, or some other type of weathering. Here are a few basics about rooftops in Colorado Springs that you may find useful as a homeowner, homebuyer, or seller.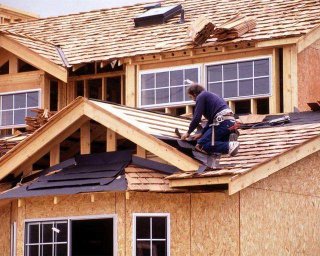 If you are buying a home in Colorado Springs, make sure the inspector jumps on the roof and inspects it for hail damage, blistering, swelling, or cracking. Roofs can be expensive to replace and some homeowner's insurance companies may not be willing to pay for a new roof after you move into your new home if it was a pre-existing problem. If the roof is not replaced, it is wise to obtain a 5-year certification for the roof from a licensed roofing professional. If the roof is replaced by the seller, don't forget to request a warranty for the new roof be provided.
El Paso County allows up to two layers of roof shingles to be installed on a home. Replacing the entire roof is more expensive than adding a new layer. If the first layer of shingle type is T-Lock and the
new layer to be installed will be the dimensional or another type, the second layer may not sit as well. Gain the professional advice of a licensed roofing contractor to find out if the first layer should be removed to guarantee a better install. Roofs are measured in squares:  one square of shingles will cover 100 sq ft of the roof.
There are many different types of roof shingles on homes in Colorado Springs with the most common being asphalt shingles (Dimensional, T-Lock, and 3-Tab). T-Lock shingles are no longer used on homes in Colorado Springs; if your roof has to be replaced, a dimensional shingle will probably be used since it is easier to install and are a little bit thicker.  The Dimensional shingle is more resistant to hail, has a longer life, and a better design.
To find out more about Colorado Springs Realty and The Colorado Springs Area contact me or visit my website.
Related Posts
5535 Sunrise Mesa Dr, Colorado Springs, CO 80924 Video   Information about…

146 Ely St, Colorado Springs, CO 80911   Video   Information about…

980 Mesa Valley Rd Unit 104, Colorado Springs, CO 80907 Information…