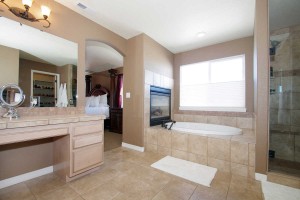 Many home buyers have made a 5-piece master bathroom one of their requirements when searching for a home in Colorado Springs.  In recent years, many homeowners who remodel their master bathroom are removing the tub in exchange for a larger shower.  The absence of a tub allows for more space to work with when remodeling or designing a bathroom layout.
Let's face it, how often do most people take a bath anyway?  Many homeowners rarely (if ever) utilize the tub in their master bathroom and only use the shower which is usually too small.  Tubs also require a lot of water which translates into a higher water bill.
A 5-piece master bathroom may not be on a buyer's must have list in the near future, but instead, a functional bathroom with a larger shower.  In fact, many home builders are doing away with 5-piece master bathrooms in their homes.  Hotels are also starting to say goodbye to tubs and utilizing the space in the bathrooms more efficiently.  For those that do not have the time to take a bath, a shower can still be just as relaxing.  Showers are becoming more luxurious with their design and amenities like steam showers, body spray systems and shower benches.
Homes usually have at least one tub in another bathroom and most people would not complain about having one less tub to clean!
If you are considering a master bath remodel and are concerned about resale by removing the tub, keep in mind many home buyers do not solely look for a tub in the bathroom but a functional, spacious bathroom they can enjoy instead.
Contact me about buying a home in Colorado Springs at 719-660-9058
Related Posts