Homes sales increased by 9.5% in El Paso County for the month of April when compared to March.
There were 84 additional single family home sales in April 2010 when compared to April 2009 (11.8% increase). There were 138 fewer single family homes for sale in April 2009. Although, inventory levels are slightly higher than one year ago, sales have steadily increased.
Compared to the previous month of March, the average sales price ($220,105) increased while the median sales price ($187,500) slightly decreased. Last April, the average sales price was $210,141 and the median sales price was $180,000!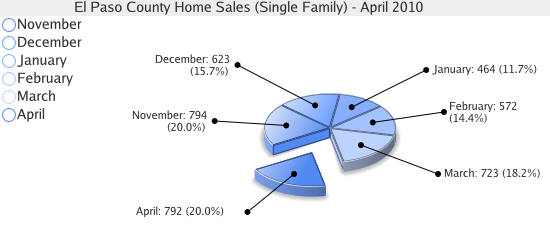 *Information gathered from the Pikes Peak MLS is deemed reliable but not guaranteed
Patio homes are included in these stats
Search for homes in Colorado Springs
For further information on available Homes in Colorado Springs contact your Colorado Springs Real Estate Agent, Patricia Beck.
Related Posts
5535 Sunrise Mesa Dr, Colorado Springs, CO 80924 Video   Information about…

146 Ely St, Colorado Springs, CO 80911   Video   Information about…

980 Mesa Valley Rd Unit 104, Colorado Springs, CO 80907 Information…