Home sales decreased by 14.1% in El Paso County for the month of November when compared to October.
There were 252  fewer single family home sales in November 2010 when compared to November 2009 (31.7% decrease).  There were 445 fewer single family homes for sale in November 2009.  Home sales typically decrease during this time of year since we are in the slower season for real estate in Colorado Springs.
Compared to the previous month of October, the average sales price ($233,286) and the median sales price ($198,000) both decreased.  Last November, the average sales price was $214,062 and the median sales price was $187,950.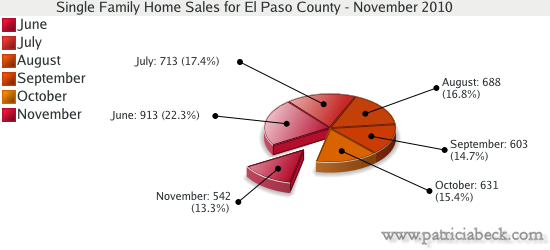 **Information gathered from the Pikes Peak MLS is deemed reliable but not guaranteed
Search for homes in Colorado Springs
For further information on available Homes in Colorado Springs contact your Colorado Springs Real Estate Agent, Patricia Beck.
Related Posts
Home sales decreased in El Paso County by 4.9% for the month…

5054 Chaise Dr, Colorado Springs, CO 80923 Video Information about this…

Home sales decreased by 26% in El Paso County for the month…