If you are going to list your home this spring or summer like many other homeowners in the Colorado Springs area, there are many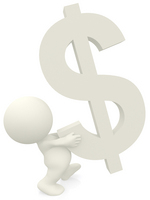 factors that will make your home sell quicker than the competition and one of the most important of them is the list price.
Many sellers interview Realtors to list their home and often choose the agent who will list their home at the highest list price. If you want your home to sell, than it is pertinent you work with a Realtor who is honest with you about what your home can sell for in today's market.  Unfortunately, what your home is worth is not necessarily what the market is willing to pay for it, especially with so many homes currently for sale in Colorado Springs. The market value of a home is the price of a property that appeals to many buyers which results in a sale within a reasonable amount of time. A reasonable amount of time in our current market would be less than 90 days. If your home has been sitting for 150 days, you need to figure out why. It is not fun hearing the truth but isn't it better to know what the market value of your home is right away instead of 6 months down the road when your home still has not sold and the market values may have dropped even more?
If you do not price your home correctly from the beginning, you lose valuable marketing time for your home and according to the National Association of Realtors sellers net more on the sale of their home by pricing it correctly from the beginning opposed to dropping the price later. So instead of dropping the price every few months, why not price it right from the get go to increase the likelihood it sells? If your home sits on the market too long, it will become a stale listing. The most showing activity occurs in the first 4-5 weeks after listing your home and if it is not
priced right, you may lose potential buyers!
Your Colorado Springs Realtor should perform a thorough analysis for homes previously sold in your area, going back no further than 6 months in order to equip you and your agent to price the home correctly together. If you price it more than 3% above the market value in the area, it will not sell quickly if at all. If you have had 15-20 showings with no offers, your home is probably overpriced. If you have had limited showings or no showings at all since listing your home, it is probably overpriced. Don't waste time; price your home right so it sells!
For more information about Colorado Springs Homes for sale visit my Pikes Peak MLS search.
Related Posts
5535 Sunrise Mesa Dr, Colorado Springs, CO 80924 Video   Information about…

146 Ely St, Colorado Springs, CO 80911   Video   Information about…

980 Mesa Valley Rd Unit 104, Colorado Springs, CO 80907 Information…