Aside from closing costs and their down payment, buyers often ask what fees are associated with purchasing a home in Colorado Springs.  Even if buyers receive down payment assistance through CHFA or obtain a VA loan where no down payment is required, they will still need funds to cover inspections and the appraisal prior to closing.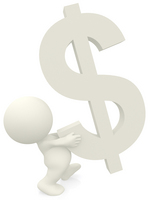 A basic home inspection is approximately $200-$250 and highly recommended.  Although a home inspection may appear expensive, it is a small investment compared to dealing with a problematic issue down the road.  An inspector will check a home's basic components including plumbing, heating, structural, and mechanical to ensure they are in working condition.  The buyer will receive an informative report that also highlights any problem areas that should be addressed.  Buyers may choose to complete additional inspections such as a mold, termite, meth, radon, and/or structural analysis by a professional.  Some of these tests can be quite expensive but buyers are free to choose which inspection(s) they want performed.
If the inspection goes well and the buyers want to move forward with the transaction, the appraisal will be ordered by their lender.  Normally, the lender requires the money for the appraisal is paid up front by buyers and the cost for the appraisal is credited back to the buyer at closing.  On the other hand, if the transaction does not successfully close and the appraisal has already been completed, the buyer may not receive a refund for the money paid up front for the appraisal since the appraiser still needs to be paid.  Appraisals will normally cost a buyer around $400.
Earnest money is often overlooked by buyers and although they may receive their earnest money back at closing, earnest money accompanies the offer submitted to a seller to show the buyer's seriousness or eagerness to purchase the property.  Once all parties agree to the contract price and terms, the earnest money check is cashed and held in an escrow account until closing.  Earnest money is typically 1% of the list price so buyers need to be prepared to have funds to cover earnest money when they plan on offering on a home.
Buyers who are not prepared to cover these out of pocket expenses, may want to hold off on beginning the home buying process until they have budgeted some money to cover these important items.  Some buyers  look to family or friends for assistance in covering these costs.
Buying a home takes preparation and understanding the potential costs prior to closing helps eliminate surprise and added stress when looking for real estate in Colorado Springs.
 Contact me about buying a home in Colorado Springs at 719-660-9058
Search for homes in Colorado Springs
For more information on Colorado Springs Real Estate or the Colorado Springs Area contact me or visit my website.
Related Posts
If you are thinking of relocating to Colorado Springs, feel free to…

Many home buyers interested in purchasing a property in Colorado Springs say…

Ideally, buyers want to see the home they are purchasing but…