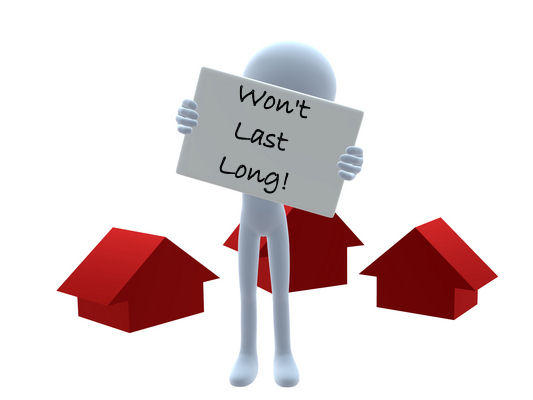 The inventory in Colorado Springs has dropped considerably compared to previous years.  There are around 3,000 single family homes actively for sale right now in El Paso County and less than 1,500 homes for sale below $250,000.  There are also 1,200 fewer single family homes on the market than this time last year.  Buyers recognize it is a good time to purchase a home in Colorado Springs with the low interest rates and competitive home prices.  Pair low interest rates with low inventory levels and you have the market leaning toward sellers right now in Colorado Springs.
Buyers who find a home they love do not have much time to "think about it" and if they do take too long to make a decision, they will find themselves losing their dream home to someone else.  There are less than 1,000 single family homes for sale below $200,000 so the housing market is very competitive for buyers looking to purchase in that price range right now!
Buyers looking for a bargain may gravitate toward distressed properties but need to understand they may encounter a multiple offer situation if they pursue a bank owned property.  Many bank owned properties with multiple offers are selling above the asking price.
It is not uncommon for home sellers to be less flexible in our current real estate market either.  Sellers know the home inventory is low and understand they can find another buyer for their home if the buyer they are working with is unreasonable.  Buyers understand the market is competitive so we are seeing many of them ask for fewer seller concessions as well.
If you are considering putting your home up for sale, now would be the right time to do it!  Many home sellers are receiving multiple offers in Colorado Springs.   Start interviewing real estate agents in Colorado Springs today!
If you are looking to purchase a home in Colorado Springs, choose a real estate agent who understands the current real estate market and knows how to work with the various types of properties for sale because they are not all the same!
Contact Patricia Beck, about buying or selling a home in Colorado Springs at 719-660-9058
Related Posts
If you are thinking of relocating to Colorado Springs, feel free to…

Many home buyers interested in purchasing a property in Colorado Springs say…

Ideally, buyers want to see the home they are purchasing but…