You are a responsible adult, ready to buy a home, and start the process by getting prequalified for a mortgage loan.  You contact a reputable Colorado Springs Real Estate Agent and list your specifications for the home you would like to purchase.
You start looking at homes and unfortunately, not one of them you view are appealing to you.  The homes need too much work and you prefer a home that is move-in-ready since you are busy as it is with your full time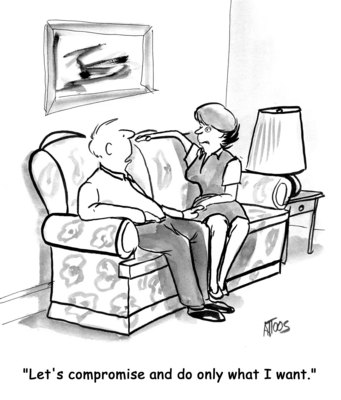 job.  Your agent tells you that you may have to make adjustments to your home search which may include looking at  smaller homes or considering a different area or neighborhood of Colorado Springs.  You may not want to compromise but you have to consider your options, what is available in your price point, and be realistic.
Truthfully, regardless of your price range, finding the perfect home that has everything you want may be nearly impossible unless you build a home customized to meet your needs.
If you have a budget (and that is a good thing) you will have to prioritize and figure out where you can compromise.
Examples of categories to consider include:
1.) Price Range – If you cannot compromise in this area and prefer not to increase the price range you are looking in to find the right home, you may have to compromise in another area.
2.) Location – Do you have to be in a certain area of town, close to work, near family or your children's activities?  If you are able to have flexibility with the area of town you want to live in, it can really open up your options.
3.) School District – Do you need to keep your children in the same schools or school district?  Are you open to exploring additional school districts?
4.) Floor plan – Maybe you prefer a ranch style home but considering other floor plans can provide more choices.
5.) Size – Will you consider a home with less square footage or an unfinished basement?  Would a two bedroom home still meet your needs?  Can you live with a 1-car garage?
6.) Condition – Would you be open to getting a home that needs some TLC?  Do you have time and skill to tackle the home projects or do you have the funds to hire someone to do the work?  Could you obtain a rehab loan to finance the required repairs?
7.) Property type – Would you be willing to consider a townhouse or condo that is more affordable than a single family home in the area you would like to live?
If you are unwilling to make any compromises, must have it all, and are limited by your price range, you may have to halt your home search and wait or consider renting if that is a better option for you.
Having champagne taste on a beer budget will eventually require compromise.  If this happens to be your first home, keep in mind that it's just that, your first home.  More than likely you will sell that home in the future and have a chance to find another home that meets your needs a little more.  Not to say you can't get it all with your first home but more than likely, over time, you will better learn what you like or don't like after actually living in a home or two!
Contact me about buying a home in Colorado Springs at 719-660-9058
Search for homes in Colorado Springs
For more information on Colorado Springs Real Estate or the Colorado Springs Area contact me or visit my website.
Related Posts
If you are thinking of relocating to Colorado Springs, feel free to…

Many home buyers interested in purchasing a property in Colorado Springs say…

Ideally, buyers want to see the home they are purchasing but…