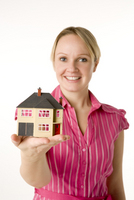 There are many advantages to owning a home in Colorado Springs and it is a great time to purchase a home with the current interest rates and large inventory of homes to choose from in the Colorado Springs and surrounding areas. Listed below are some of the many advantages to owning a home vs. renting.
1. There are many tax advantages in owning a home. Homeowners can deduct money paid towards interest and taxes on their home each year from their taxes.
2. Instead of flushing money down the toilet with renting, you actually apply money towards your mortgage principal with each monthly payment even though the first 2 years of mortgage payments are front loaded with interest.
3. In a good market, your home can appreciate and gain equity over time. When the time comes to sell your home, you may be able to walk away with some extra money in your pocket.
4. When you sell your home, you are entitled to the Capital Gains Tax Exemption every two years ($250,000 for singles and $500,000 for couples who file jointly). To put it simply: homeowners can avoid paying taxes on any gains made when you sell if it falls within the tax exemption guidelines.
5. Pride of Ownership. If it's your home you can do whatever you want to it inside! You can design each room any way you desire and customize it to fit your needs. Now keep in mind; you may have to change some things when it comes to sell. Not every buyer will like your bright orange walls.
6. Remodeling or finishing a basement can be a great investment and help increase the equity in your home.
7. Having a garage! Not every home offers a garage but many homes do. I hated scraping the ice off my windshield during the winter while living in an apartment!
8. If you move from an apartment or condominium into a home you will probably have less noisy neighbors and more privacy!! You don't have to deal with your neighbor upstairs having loud parties during the morning hours anymore.
9. A yard! Unless you rent a home, most rentals (townhomes, condos, and apartments) don't have much of a yard. Your dog will be much happier and you can finally have your own backyard.
10. Laundry facilities can be a pain! With your own home and your own washer and dryer, no more waiting for those clothes to dry.
For more information about Colorado Springs Homes for sale visit my Pikes Peak MLS search.
Related Posts
If you are thinking of relocating to Colorado Springs, feel free to…

Many home buyers interested in purchasing a property in Colorado Springs say…

Ideally, buyers want to see the home they are purchasing but…