During your home search you will probably run across some homes that need work, there are many fixer uppers on the market in Colorado Springs.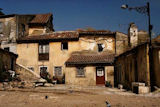 Before you consider buying a fixer upper, it is important to ask yourself a few questions:
1.  Do you mind living in a construction zone? It is difficult for some people to live in a home during extensive remodels.  Usually, the room being remodeled cannot be used and that may not seem like a big deal until you are in the middle of the job.  If you are working on the kitchen, you probably will not have use of the sink or counter tops for a while.  Remodels can become pretty messy and create a lot of construction dust in the home as well!
2.  Have you priced out the remodels? You love the house but need to knock out a few walls, renovate the bathrooms, finish the basement, and paint.  If you are going to update a home, it costs money.  If you are going to do the work yourself it is important to price out the cost of materials.  On the other hand, if you are going to hire a contractor, you can count on spending some cash and it usually is not cheap.  You would be surprised how quickly remodels add up!!  Do the math to avoid buying a home that is a money pit.
Sure the television shows make it look easy but remodeling anything but easy, especially if you are doing the work yourself.
Read Also:
Buying a fixer upper in Colorado Springs – Part 2
How to find foreclosure properties in Colorado Springs
For information on the buying process and available Colorado Springs Housing please go to www.patricia-beck.com.
Related Posts
If you are thinking of relocating to Colorado Springs, feel free to…

Many home buyers interested in purchasing a property in Colorado Springs say…

Ideally, buyers want to see the home they are purchasing but…